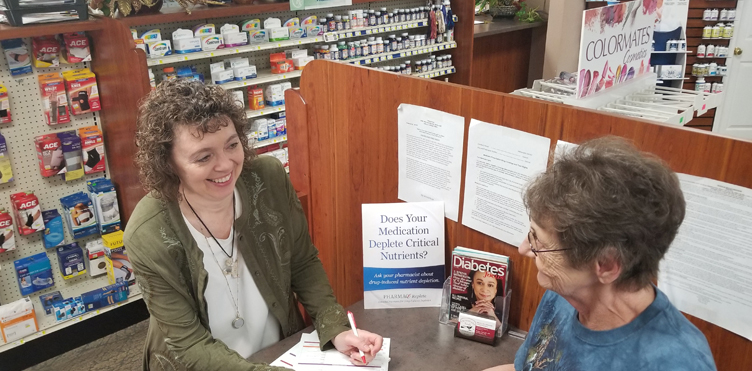 Independent Pharmacy Thrives by Talking With Patients
In many ways, the independent pharmacy is the great equalizer. Patients in all health statuses, income levels and stages of life walk through its doors seeking better health. Still, as a pharmacist, do you ever think some of your patients may not be interested in enhancing their health with professional dietary supplements due to affordability?
This is not the case at Crossroads Family Pharmacy. In rural Chattooga County, Georgia, where the median household income is $33,000, sits a thriving independent pharmacy. Helmed by pharmacist husband and wife team David and Sandy Moseley, Crossroads Family Pharmacy fills 125 to 130 prescriptions a day in the small town of Menlo. But the focus of the pharmacy goes beyond prescriptions; Sandy takes the time to talk with her patients, and it has made all the difference in her pharmacy and community.
"I have conversations with my patients all day long, every day," Sandy said. "It's how you discover issues or problems they might be having. I've found that my patients are telling their friends and family about the health conversations we have, and new patients are coming to Crossroads Family Pharmacy." The pharmacy itself is conducive to conversation. Sandy set up a small consultation area for private conversations with patients, and uses a dispensing consultation area.
Sandy knows her patients, and because many of them are on Medicare, she launched a program focused solely on their long-term care. Through the Chronic Care Management Program, Sandy meets monthly with Medicare patients to discuss their medication therapy. Last year, Sandy expanded her conversations with her Chronic Care Management Program patients to include information about potential drug-induced nutrient depletions. Sandy uses the Pharmace Replete Program to provide patients information about these nutrient depletions and make appropriate dietary supplement recommendations. The program has received excellent reviews from patients, and in the fourth quarter of 2016, Sandy expanded its reach to all her pharmacy's patients. She recommends professional dietary supplements to her patients and carries them in her pharmacy because she knows they make a long-term difference in patients' health.
"Many of my patients do not have excess income, but they want to feel better and enhance their health. Most are not getting this information from their health care providers," she said. "After our conversations, many patients start taking the recommended dietary supplements. They have come into the pharmacy just to tell me they are finally seeing a difference in their health."
These conversations and recommendations are making a difference in patients' lives, and front-end sales at Crossroads Family Pharmacy have increased significantly. Dietary supplement sales have increased by over $1,500 per month since Sandy began implementing patient education in her consultations.
Whether in a bustling city or the sleepy town of Menlo, Georgia, taking time to talk with patients and provide personalized care is a triumph for all—enhanced pharmacy front-end sales and lasting patient health.
Learn more about Pharmace programs dedicated exclusively to independent community pharmacies.